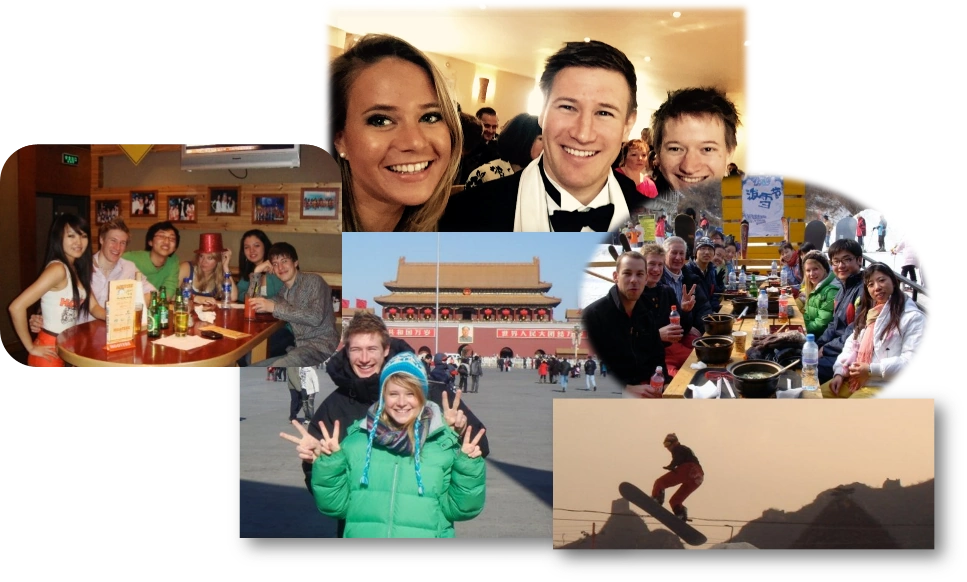 Why I learn Chinese in Beijing
I first came to Beijing around 15 years ago as a child. I only spent a week here but sleeping on the Great Wall and looking up at the starry sky overhead was enough to make anyone come back.
Why I study Mandarin in TLI (2009)
After graduating from University in the UK I came back to Beijing to study Mandarin for a month. I arrived in January, it was absolutely freezing. A friend recommended TLI (Taipei Language Institute) so myself, my father, and my sister all started to learn Chinese here in TLI Beijing Branch. Chinese teachers in TLI were all wonderful and took me out to many lunches, bars, badminton, and skiing. I remember day one – trying to order a beer for lunch "我要一瓶啤酒" the waitress guessed the game and said "冰的还是热的"…I was dumbstruck, all the teachers laughed, Good Start!!
Life at TLI Beijing (2009)
I wasn't exactly the best of students in learning Chinese, I spent most of my Chinese classes in TLI drawing pictures on the whiteboard and finding out how many ways I could insult the teachers in one minute (a lot it turns out). But somehow, in amongst all the jokes, I actually started to "learn Chinese". As classes moved on I found I could describe simple things like my day, the weather (how it was always cold), and what sports I liked.
TLI Take 2 - learn Chinese in Beijing (2015)
In 2016 I will be starting an MBA in Paris and, before I begin the serious work of doing an MBA, I wanted to have fun again. I hoped on the next flight out of the UK with a view to doing my HSK 4, and being a good student in learning Chinese this time! When I landed in Beijing, I realized that all the Mandarin I once knew I had now forgotten, suddenly the HSK 4 seemed a lot harder.
It has been amazing coming back to TLI Beijing Branch and to learn Chinese again here, the books haven't changed, the teachers haven't aged, the rooms look the same, but now there is a coffee machine!! It was fantastic to be greeted by some of the same teachers who had taught me all my Chinese so long ago.
After the first class it dawned on me that I would also now have to learn Chinese characters, not something that I have bothered with before….oh dear. It is a good job that I had told myself to actually do work in studying Mandarin this time.
Some of the TLI teachers have now taken to calling me "酒鬼" as I do all my best work whilst sat on a bar stool. I try to explain that the beer is for medicinal purposes. I just hope that I drink enough to prepare me for the test!!
A big thank you to TLI (2009-20??)
Whilst some of the teachers at TLI (Taipei Language Institute) have changed over the years, the help that they give you, the lunches they take you on, and the kind words that they share with you have not changed. I am genuinely very grateful that TLI is still here to look after me, and I hope they will continue to do so when I return to Beijing in the near future!! 加油!!
Author:TLI Beijing - Jone William

Any Question? Mail us:contact@tli.com.tw
Feel free to contact TLI:+886-2-23678228