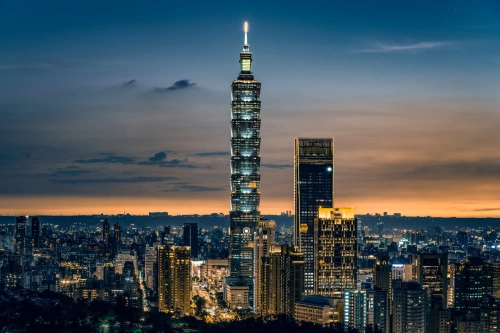 TLI Chinese teacher Yan Lo
There are more and more foreign faces appearing on the streets of Taiwan, especially in the Guting and Gongguan areas in Taipei. They come to travel, study, settle down, work, etc. Everyone has different goals for their time in Taiwan, but two of the most common are these, eating things and learning Chinese.
Is that an exaggeration? Not at all. In addition to long-term students, the school receives requests from short-term students to learn Chinese every day, most of them are Japanese, but there are also many from Western Europe. It is most common to stay in Taiwan for a week or two, and it is most common to learn elementary Chinese; some students also study hard every day for a month. , English class in the morning, Chinese class in the afternoon, and happy hour in the evening. It is unclear if they intend to study in the name of sightseeing, or sightsee in the name of study. After all, I heard that in foreign countries, especially in Japan, it is sky-high expensive (more than 3 times the price) to invite certified Chinese teachers and foreign teachers with education diplomas to learn foreign languages!
According to the data of the Department of International and Cross-Strait Education in Taiwan, the average number of people who come to Taiwan to study in Chinese language classes at university language centers is more than 23,000. In addition to these short-term students, the Ministry of Labor statistics noted that in recent years the number of foreign professionals choosing to study Chinese in addition to their work has also been increasing. In 2017, there were more than 31,000 people, a record high and a 15% increase from 2011. Looking at the long-term perspective, Taiwan now holds a valid foreigner residence permit of the Republic of China, and there are 730,000 foreigners actually living in Taiwan, which is a significant increase from 410,000 in 2008, and it is increasing steadily. The demand for learning Chinese will increase for sure.
What is more noteworthy is that in the past, it was easiest for foreigners to stay in Taiwan by teaching English in a cram school to get a Taiwan employment permit, but the situation has gradually changed. According to the type of job application, data from the Ministry of Labor shows that in 2017, 59% of the nearly 18,000 foreign professionals belonged to "specialized or technical jobs", followed by 14% of "remedial school language teachers", about 4,900 people. In the population of foreigners, Japanese account for the most at 25.6%, followed by American nationals at 15.7%. The fact that so many foreign professionals come to work in Taiwan raises two questions worth thinking about. First, do these foreigners need to learn Chinese? Second, is the number of Chinese language teachers in Taiwan proportional to the demand?
Unlike neighboring Asian cities (such as Singapore and Hong Kong), Taiwan's national English proficiency has not yet reached the international level. If foreigners living in Taiwan do not understand Chinese at all, it will still be difficult. In addition to the necessities of life, the Chinese learned in Taiwan is written in traditional Chinese characters, and the Chinese culture is well preserved and inherited. Students can experience the beauty of traditional calligraphy, Chinese painting and other arts in Taiwan, all of which attract foreigners. In addition, is the number of Chinese language teachers in Taiwan proportional to the demand? According to the current situation, the Chinese language teacher market in Taiwan seems to be oversupplied by demand. Everyone must first understand that it is not necessary to speak Chinese to teach Chinese, and the professionalism of the industry is absolutely worthy of everyone's respect.
Then who can teach well? First of all, it is necessary to have a certain love and understanding of Chinese culture. Language and culture are closely related and cannot be clearly divided. If teachers cannot bring students cultural knowledge and experience at the same time, the depth and breadth of language learning will be limited. Secondly, standard, clear pronunciation is also indispensable. Although Chinese learners may face various accents in daily life, the primary responsibility of Chinese teachers is to help students master pure pronunciation in the classroom, and then listen carefully to everyone's pronunciation outside the classroom, and then speak natural and fluent Chinese.
The TLI International Chinese Language Teacher Certification or TCSOL class is full almost every quarter. Among the many applicants, those who have passed the exam and demonstration teaching have the basic requirements to become a Chinese language teacher, but they need time to accumulate experience and practical operation, and then they can truly be excellent Chinese teachers. Therefore, it takes time and effort to develop a Chinese language teacher. Not only does Taiwan have a demand for Chinese language teachers, but because of the popularity of China sweeping the world, the demand for overseas Chinese language teachers is also increasing. The school markets in Europe, America and Southeast Asia are recruiting Chinese teachers every year, and thus the supply is far from enough.
People may choose this field because they like to get along with foreigners, or they want to increase their international exchange experience, go abroad to work, etc.. However, in the end, those who are Chinese teachers or wish to be have a few questions facing them. What conditions or characteristics make people more likely to succeed? Please look forward to the next series of articles and [Mandarin, WTF?!, Podcast]!
Want to join the field of Chinese teaching together, but have no access to it, do not know where to start?
You can start with TLI!
作者小檔案:Yan Lo
2019 TLI華語師資春季班學員
---
🏠Teacher Training Program:Chinese Teacher Training Course
🔗Be a Chinese Teacher in TLI:Application Form
📧Any Question? Mail us:ch.tp@tli.com.tw
📞Feel free to contact TLI:+886-2-23678228