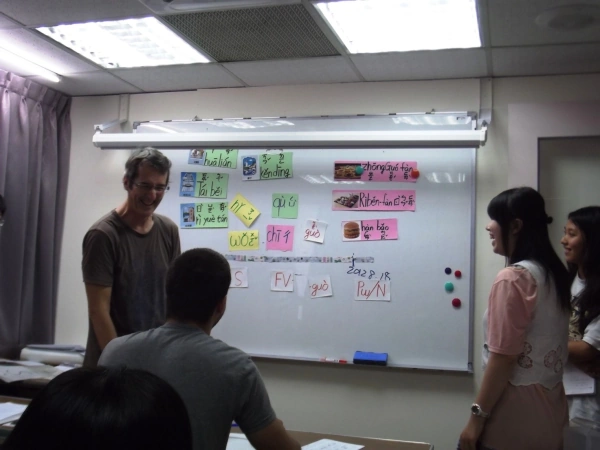 I first came to Taiwan as a visitor about 5 years ago. At the time I was travelling around parts of Asia and wanted to visit countries I'd not been to before. As plans progressed I happened to mention to a new acquaintance that I was considering a visit to Taiwan. It turned out she was Taiwanese so of course she recommended Taiwan. She spent some time describing the country and a little of its history and on her advice I decided to visit.

I loved Taiwan so much – everyone was extremely friendly and helpful, it was easy to visit lots of different areas – mountains, sea, cities, villages - and everything worked properly. I also loved the liveliness of the cities, especially in the evenings.
One of my fondest memories – because so unexpected but so Taiwanese – was of asking a train-station guard which carriage was the one I should get into. He not only told me which carriage but also took my ticket and wrote – in English – a note to welcome me to Taiwan!
After one month of travelling around Taiwan I decided it would be a great place to spend considerably more time and on return to Australia hit upon the idea of getting a student visa. This was the visa which for me gave me most time in Taiwan. Frankly my plan was not primarily to learn Mandarin in Taiwan but to wander around.
I commenced study at a University but found the teaching method did not suit me. There were lots of tests and lots of writing Chinese characters in pencil. I had stopped writing English with a pen or pencil many years ago so the experience was rather a "back to the future" one. I found being marked down for minor pen/pencil transgressions a little galling.
Oddly though despite not really wanting to learn Mandarin in Taiwan and also finding that the University's teaching method didn't suit me, I found there were aspects that I enjoyed. For instance mastering a little Mandarin and then going outside and speaking with people who – as Taiwanese are inclined to do – praised me for my knowledge of the language. I also enjoyed starting to learn a little of Taiwan's culture and history.
The benefits of the University experience were that I did decide that I wanted to learn Mandarin and I was able to define what I really wanted to get out of learning. I then set about finding a school that was more suited to my needs. In Taipei I discovered TLI (Taipei Language Institute).
I told the director what I wanted and to my pleasant surprise she said that would be no problem. So I did a couple of weeks one-one-one Chinese Courses focusing on speaking, reading and listening. I did no tests and did not have to write characters by hand. I found those couple of weeks exactly fitted my needs and decided to come back again to continue learning Mandarin in Taiwan.
The following year when planning to come back to Taiwan, a friend introduced me to a Kaohsiung friend who – though she had never met me – in a typical Taiwanese way said I must come to Kaohsiung and learn Chinese, she'd help me find somewhere to live and any other help I needed to settle in.
Now every year I come back to Kaohsiung for an ever increasing amount of time – this year about 8 months – and I am increasingly enjoying learning Mandarin in Kaohsiung. Kaohsiung is a very good city to live in and travel around – by bike, motorbike or public transport - and there are a lot of cultural – art galleries, plays, dance – and other activities to get involved in or watch. Simply walking in the park at night is a really enjoyable experience. Maybe there are people reading, ball-room dancing or just walking their – often very cutely dressed – dogs. There are a couple of beaches nearby where I sometimes go swimming and of course -as the locals will tell you – Kaohsiung has the best weather in Taiwan. Kenting is also not too far away for water sports – snorkeling, diving, swimming, surfing.
When I first commenced at TLI Kaohsiung center I was in a group class of five or six students [at the University there had been eight]. While we all studied the same book I was impressed by the flexibility – being able to accommodate for example those who wanted to use bopomofo and those who didn't, those who wanted to write characters and those who didn't.
I now take individual classes. This has the great benefit of being able to choose my own dates for starting and pausing my studies. In addition I have several teachers – changing on the hour. This for me is really good as not only is each one's teaching method slightly different but so too are their accents. It provides a good opportunity to improve my listening skills. While by and large we follow a set text book, sometimes we – mainly I – talk for the whole lesson with the teacher occasionally helping with suggestions for more appropriate words or grammar.
Another thing a like about TLI Kaohsiung is that it is a small school. That means most of the people who work there – as teachers or administrators – know you and are happy to see you and chat in passing. That goes a long way to help and encourage me to learn Mandarin in Taiwan.
---
Author:TLI Taipei & Kaohsiung - Tim Meredith

---
📧Any Question? Mail us:contact@tli.com.tw
📞Feel free to contact TLI:+886-2-23678228