Online courses cost anything from free to over $100 for a whole course. Whereas enrolling in a university language course with dozens of other people costs hundreds of dollars every semester, buying required materials costs significantly more. Chinese language schools are similarly costly, with weekly private or small group sessions costing over $500. Optimistically, it's enough to give you a brief idea about how tremendously valuable it is to learn Chinese online. Isn't it?
The question arises: are you also under the spell of this incredible language and thus want to master it with utmost supremacy? But the decision to learn Chinese online or offline appears clear as mud to you? If we have precisely read your mind, then have faith and sit tight because we have already developed a plan for your perplexing problems. Are you curious to find out? Then continue to read on and figure out the answer by the end of this impeccable guide.
Along similar lines, in this article, we will explore the pros and cons of online Chinese learning and offline Chinese learning. So, let's dive straight into our discussion.
What benefits come from learning Chinese online?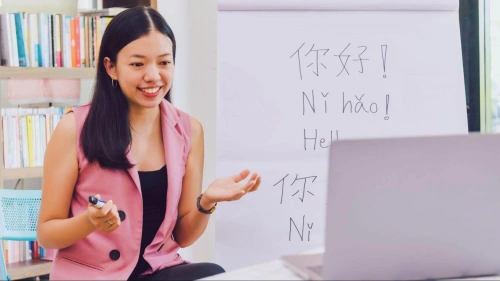 Among the numerous reasons to learn Chinese online, here are some of the quality benefits that add extensively to their value and desirability, and you might also be interested in:
Flexible Schedule and Environment
When you decide to learn Chinese online, the best part is that you are not bound to follow a strict timetable made by someone else. Instead, you get all the control of your daily calendar, where you can design your learning plan according to your scheduling availability. This fair choice of program selection gives you an edge to adjust your other priorities with your learning pace.
Even the thought of communicating with approximately 16% of the world's entire population in a single language like Chinese is enough to leave you flabbergasted. Perhaps that's what compels the students to learn Chinese online at reliable platforms like TLI (Taipei Language Institute), where students get a chance to attend customized classes in a friendly environment.
While speaking of the environment, an additional perk for choosing to learn Chinese online is that you don't have to be at a particular place with unknown people and feel uncomfortable. On the contrary, you can be at your home or anywhere else in the world and still be able to continue your programmed class for the day easily. What a tension-free alternative, isn't it?
Easily Find Learners' Reviews
To determine the authority and credibility of a teaching platform, students head straight towards their apprentice's testimonials. A review left by a previous learner about the language training institute can give away a lot of meaningful information. Thus, analyzing past learning experiences posted on the website will help you pick the right training institute to learn Chinese online. Also, it will save you from betting on the wrong horse by distinguishing the frauds who guarantee to be the best in the market but are only a waste of time and money.
Bigger Pool of Teachers to Choose from
Nothing can beat having a great mentor alongside you, especially when you are an English-speaking native and plan to learn a complex language like Mandarin Chinese. The complexity takes over when you come to know that the traditional Chinese consists of about 50,000 characters in total. If you already have (or previously had) attempted to learn Chinese online, you would probably know it because that's what the teachers usually tell you in the first place.
But remember, that's also where you distinguish between an ordinary mentor and a highly experienced mentor. A professional teacher would always try to make things easier to understand. Thus, whether you choose to learn Chinese online to upgrade your linguistic skills or be interested in Chinese culture, picking a proficiently trained instructor will take you one step closer to mastering your dream language faster than you can imagine.
What are the disadvantages of learning Chinese online?
After having looked into the merits of learning Chinese online, let's now take into account the drawbacks you might encounter in the online learning journey:
Requires Personal Discipline
Although it is somewhat impressive for English speakers to learn Chinese online, it tends to make people distracted with multiple options available to access your booked classes from anywhere around the world. Once you lose focus, it becomes even more challenging than before to keep track of the daily online lessons. This lack of self-discipline leads you to demotivation. You feel lost in the vicious cycle of laziness to continue your programmed classes further.

Therefore, if you want to learn Chinese online thoroughly, then only untired efforts, unshakeable consistency, personal discipline, and laser-sharp focus can enable you to accomplish your goal.
Lack of Social Interaction
Another downside of attempting to learn Chinese online is that you miss out on the inherent face-to-face human interaction. Online platforms are often based on one-on-one sessions. The students are interacting with their preferred teachers only for queries and such. As a result, this factor might progressively cause a bit of a lag in the learners adapting aptitude to the Chinese language.
What benefits come from learning Chinese offline?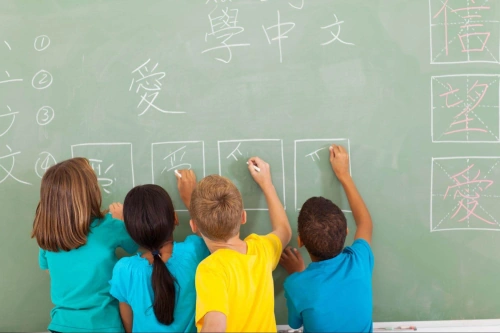 Apart from trying to learn Chinese online, the conventional offline method has some merits. Let's take a look at the beneficial features that offline Chinese learning courses have to offer:
Practicing Handwriting Is More Convenient
As we discussed earlier, the Chinese language has several characters, which can get challenging to memorize. So, what's better than writing them down until you finally get the hang of it? Often it is said that the more you write, the more you embed the knowledge inside your brain. Consequently, writing down about 8,000 Chinese characters that are considered essential to acknowledge for a standard literate Chinese person will not only help you become fluent in Chinese language speaking but also enhance your handwriting effectively.
Opportunity to Connect with Study Partners
On a Scientific note, interactivity with peers works as a catalyst for boosting any learning process. As the students begin to exchange thoughts on the same matter, this open communication fills the gap between their surmising capabilities. Not only that, but it also builds up a level of confidence in the learner to better understand the Chinese language. It also motivates them to keep digging in until they finally get it right. Hence, this tremendous human connection ensures the chances of a productive learning path in a constructively debatable and healthy environment.

What are the disadvantages of learning Chinese offline?
It is Restricted to Fixed Timing
The most significant disadvantage that offline Chinese learning students face is the constraint of time and place. The limitations of being present at a particular site at the given time may clash with your other pre-arranged plans. Sometimes, it leaves you with no choice but to skip your lesson and continue with the next class. Conversely, if you choose to learn Chinese online, you can easily rearrange your scheduled class and smoothly carry on at your own pace.
Less, More Expensive Instructional Material
When it comes to the many types of educational formats, offline Chinese learning has fewer options. Pictures, videos, and discussion boards aren't always available round-the-clock. This characteristic could restrict learning and make it more challenging to develop an effective study strategy. Due to this reason, many students and mid-level working professionals find it easier to learn Chinese online from different channels and affordable forums.

One platform for online and offline Chinese course – Interesting?

Whether you choose to learn Chinese online or prefer to indulge in an offline course, both have their advantages and disadvantages intact with them. Accordingly, we evaluated every tiny but significant aspect that might affect how you learn Chinese online or offline.

In any case, if you are as yet confused about which way to go, allow us to lead you in the right direction. We strongly recommend you an online platform founded by Dr. Marvin Ho, who established the world's first Chinese language institute. Already curious to join the institute set up by the pinnacle of Chinese teaching himself? Of course, you are! Then quickly grab your seat by registering at the TLI(Taipei Language Institute). The best part about their institute is that they offer both offline courses along with a glorious chance to learn Chinese online.