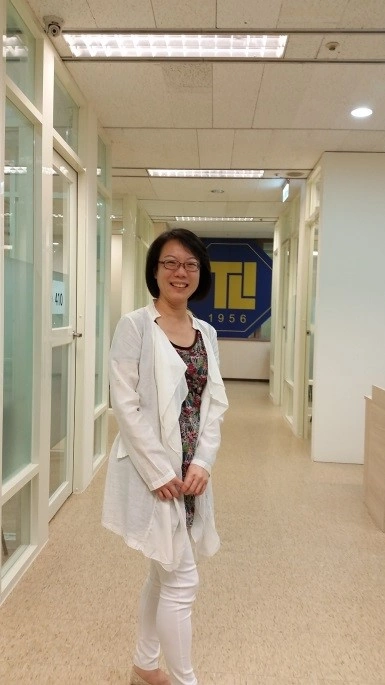 It has been more than ten years since I entered TLI, from a rookie to being named a senior teacher without knowing it. Along the way, due to my interest in Chinese and enthusiasm for teaching, I have gradually accumulated some personal experience, teaching skills, and cooperation through my experiences with foreign students. I am also very happy to share these meager personal experiences with the students of the "TLI Chinese Language Teacher Training Class" who are also interested in teaching Chinese to foreigners and lead them to a fascinating and interesting experience that is both familiar and unfamiliar.

Every minute in the "TLI Chinese Teacher Training Class" is solid and applicable. Students can not only learn the theory, but also learn the most cutting-edge classroom practical skills. For example, when teaching grammar:
Beginning with parts of speech, the teachers in the class learn "the common mistakes foreign students make when learning Chinese":
「都我們要去台北。」
「我是老師和我太太也是。」
「他是帥。」
「可以我去洗手間嗎?」
---
When it comes to sentence structure, help the teachers in the class understand some "classic Chinese grammatical exceptions":
「我把飯吃得飽。」
「他開車得很快。」
「他停車在樓下。」
「妳要哪裡去嗎?」
---
At the same time, it also analyzes and explains some "semantically confusing sentences":
「他沒來。/他不來。」
「我喝了水了。/我喝了三杯水了。」
「台灣銀行很大。/台灣的銀行很大。」
  All of these questions, too many to list, can be answered in the TLI Chinese teacher training class. Students who are interested in taking the Chinese Language Teacher Certification Examination by the Ministry of Education can also prepare for their goals more quickly. In general, the "TLI Chinese Teacher Training Course" also meets the needs of students to learn and solve their doubts.。
  The students who sign up for the "TLI Chinese Language Teacher Training Course" come from all over the world and from all walks of life: fresh university graduates, masters and doctors, housewives, office workers, tour guides, nurses, school teachers, international students who are planning to go abroad, and even those who are already in China. Some are even Chinese language teachers with formal teaching experience. It is precisely because of their different backgrounds and learning experiences that when everyone is destined to get together, different sparks are often aroused. In class, everyone raised their own different questions and had curiosity about students from all over the world. After class, it was common for everyone to discuss homework or problems in class. As the course progressed, when the students showed their attentive eyes or nodded straight with the expression "So it is", those sincere and eager faces brought me a steady stream of energy and enthusiasm.。
  Students have different learning goals and motivations: some are really interested in teaching Chinese and have a dream, some want to acquire one more skill for the future or part-time or change careers, and some want to go abroad for development; Some of them encountered bottlenecks in teaching abroad and flew back to seek answers. Of course, some are just curious and just want to know how to "teach Chinese" when dealing with foreigners. No matter what your background or motivation is, as long as you take part in the "TLI Chinese Language Teacher Training Course", it means that you have stepped out of your language comfort zone and taken the first step on the road of cultural inheritance.
  We hope that we will join hands to undertake this sacred mission of the era, and in the future, let Chinese blossom everywhere and become the main common language of the international world.
---
🏠Teacher Training Program:TLI Chinese Language Teacher Training Class
🔗Be a Chinese Teacher in TLI:Registration Form
📧Any Questions? Mail us:ch.tp@tli.com.tw
📞Feel free to contact TLI:+886-2-23678228